Spathodea campanulata(African Tulip Tree)
I just happened to luck out with my vacation this year that the
Upper Keys Garden Club
was having their garden walk. Their garden walk was a bit different than the way we hold them around here. Around here we have long lists of places to stop at and it is near impossible to see them all, so then you are left to chose by the descriptions. Down there they have a small list of gardens to see, but then you get to see and enjoy them all. Plus they had a central meeting area at the Garden Club Frances Tracy Center. It was very well done.
Front Porch of Frances Tracy Garden Center
At the Garden Center, they had assorted cookies, brownies, etc. and iced tea(sweet tea down south.) Being I can never get enough sweets,I was happy! They had tables set up outside to eat at, and a local musician playing. I won a CD of his by answering his trivia question correctly. He sang Daydream Believer and asked who wrote the song. No one could answer. He then gave the clue - it is not Stephen Colbert. So I guessed John/Jon Stewart and was correct.
There was a local nursery selling plants that were gorgeous.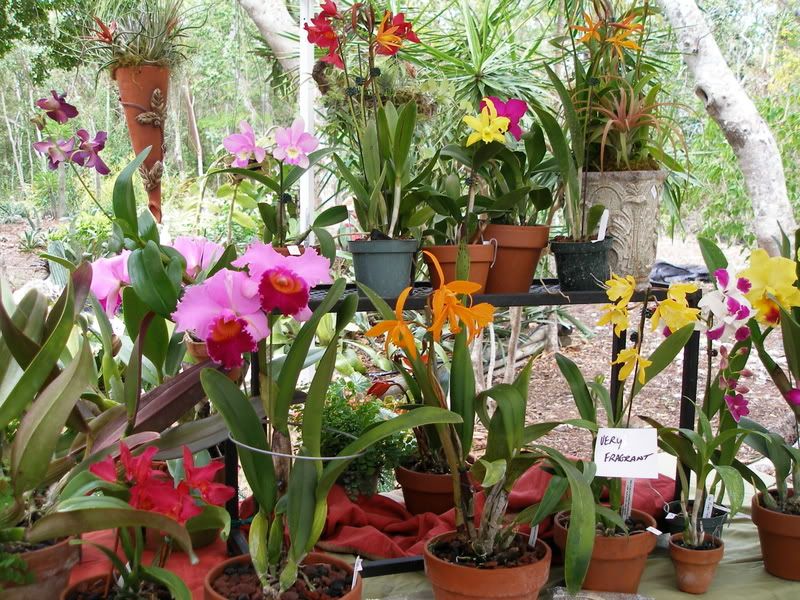 There was also sales tables of the local garden club selling plants that were just as beautiful.
The orchids were to die for. I wish they were an easy care plant up here.
In the back, the garden club had the super sale plants, leftovers from a sale before, maybe?, including NOID plants. This is my area of course. I got a NOID and Donkey's Ears(I've since confirmed it is Kalanchoe gastonis-bonnieri) for $2!
I left a note on the Garden Club's sign in that I would be posting pics of their gardens so if you wish to see more pics from the garden center click
here
.
I'm going to make a new posts of the gardens visited on the walk so as to not overload this post.