The snow has been coming in massive quantities this winter and food is getting scarce for the rabbits. They have been causing major damage and I don't know what I'll see of my wonderful once bloomers like Long John Silver this season, but thankfully I have photos to remember them by.
Long John Silver is a big manly rose in my opinion so the name fits well. He has vicious thorns, and his long limbs will travel far it you let them. I've more than once got entangled with him, and he has quite the grip! I of course didn't realize this when I planted him along the driveway in my long border. Thankfully, we don't try to drive vehicles past him very often. You might not believe me, but I've never fertilized this rose. I can't imagine what would happen if I did!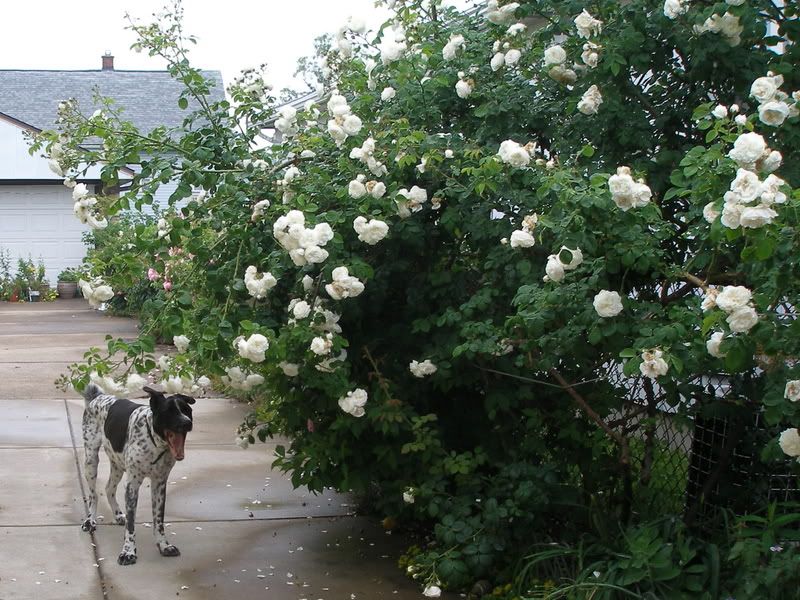 (Creton last June with LJS getting out of control. My Creton baby died of cancer later in the year.)
He is very disease resistant though late in the season if conditions are right, he'll get blackspot. I don't spray my roses, and his possible BS is is not enough to bother me. For someone spraying it wouldn't ever be an issue.
The blooms are a beautiful pure white. The buds sometimes will have a hint of red at the tips, but that doesn't show in the blooms. They are scented, not overly so, but when the rose in in bloom, you can't help but smell him since he is such a monster. For a once bloomer, he blooms late. He will sometimes throw out a few late blooms in the fall if the weather is right, but even then it is only a few. That doesn't matter though. The massive quantities of blooms he pumps out once a season is pure joy. Once cluster of blossoms alone is enough to fill a large vase!