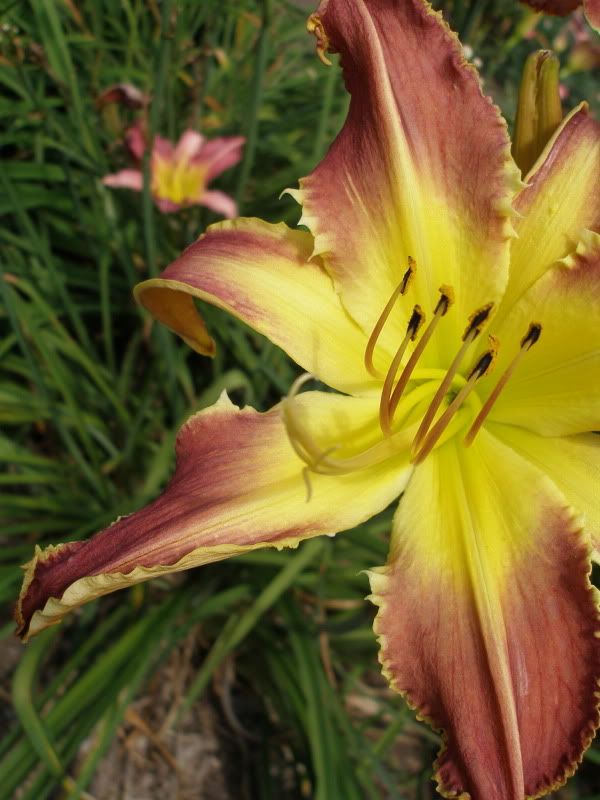 "Teeth," a new trend in daylilies
It is cold and rainy. The rest of the week isn't looking so great either. I realize it could be worse. Many of my garden friends around the country this years have shown me tapes of their once was a yard but now is a river videos. Still this is depressing. Since I've got the time, I thought I should show pics of a trip I made last summer to
Daredevil Daylilies
out on Burt, NY when it was sunny and warm.
When approaching Daredevil Daylilies, from the road, all you see is a beautiful stone home. At first you think, "Am I at the right spot?" And then you see it!
the giant field of daylilies
The name Daredevil is in reference to Niagara Falls and the
people who have gone over it in barrels
. Linda Michaels, the owner, is a most gracious hostess and a bit of a daredevil when it comes to daylilies. She is known for spider and unusual form flowers. (She is also now working with teeth.) These are not the mainstream typical blooms you find when shopping at garden centers. These daylilies may not be for everyone, but I love them! I think when you actually see them in all their glory in person, you end up wanting them.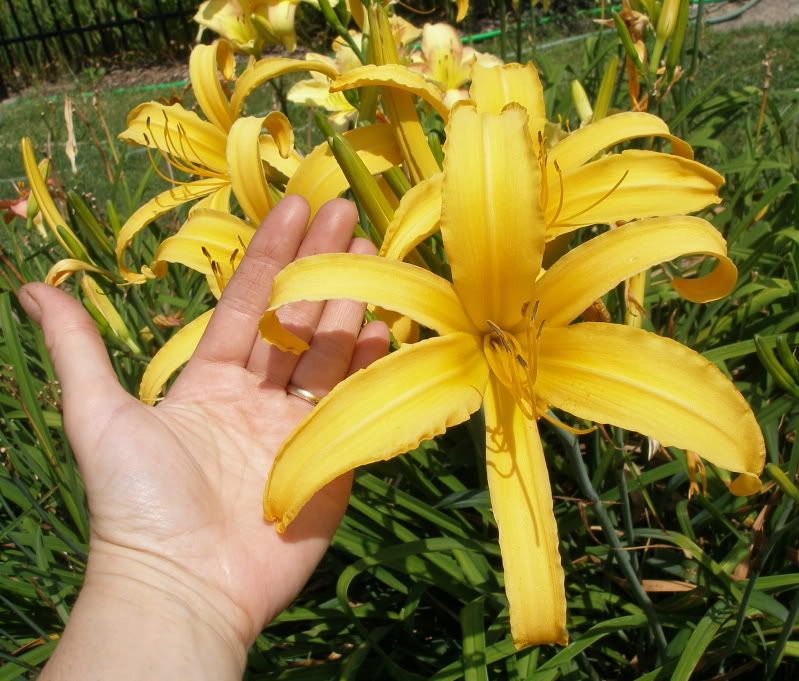 my large hand(7 1/2") looks small by this spider
On the day I went, I was lucky that she had time to roam the fields with me and her other guest Pam Hoffman, the owner of
Mystic Meadows Daylily Farm
(I have to still go visit!) Linda is a gracious hostess. I felt like we had been friends forever.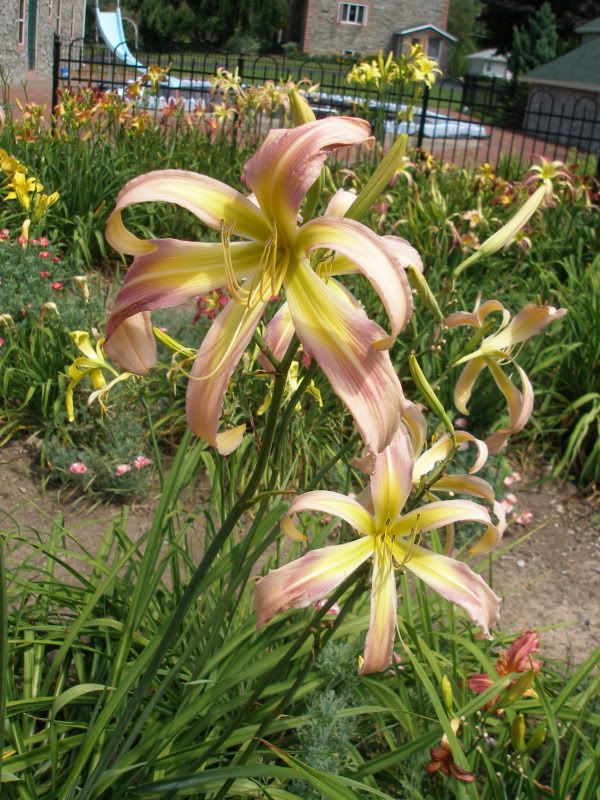 Liquid Memory, a Linda Michaels creation
Besides her artistic eye, she is an excellent namer of her creations. Some of her other cultivar names include 'Pretzel Logic', 'Sceaming Eels', 'Flamingo Lipstick', and 'Scrambled Legs'.
I must say if you go to visit, it is not like other daylily farms. She does not have a big field of cultivars for sale or anything inexpensive. Most of it is for admiring the flowers. Much of her fields are full of blooming seedlings from her crosses. They all looked beautiful to me. I would have the worst time deciding what to keep and what to cull. It was great fun to discuss all of this Linda. You don't often get to chat with the breeder of a plant you buy. Most often by the time we buy a plant it is many times removed from the breeder.
a gorgeous unusual form daylily
I went home with great memories and a new found appreciation for all that goes into making a daylily cultivar.
If you would like to see the rest of the photos from the trip,
Click Here.